ONE

LOVELY BLOG AWARD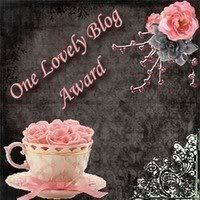 Honored and excited! Yes, those two words really sum up my feelings about receiving this award! I realize many of you have received it already. But it touched my heart on so many levels! This blog of mine hasn't officially launched yet! (Yes, it's coming soon with beaucoup giveaways and surprises!) Yet, The Fairy Blog Mother thought it was good enough to win its 1ST award!
Secondly, Gracie and I moved here to start a new life after some horrifying experiences(I'll share those with you at a later date.) But we are happy and healthy and thriving! And oh, so grateful for the friends we are making through this site!
So once again I say, "Thank you, Fairy Blog Mother!"
Here are the rules I need to follow: Acknowledge the person giving me the award. Pass the award on to 15 other blogs! SO HERE GOES!
A BLOG FOR ME-Lois
4BABYANDMOM-Lauren
BABAS FARM LIFE-Deborah
BECCA'S BACKYARD-Becca
Please accept this award and remember to PASS IT ON! Enjoy!