Sunday Stealing: The "Leave It to Meme" Meme
1. Who was your FIRST date?
My first love, Donnie M.
2. Do you still talk to your FIRST love?
I haven't talked to him in 36 years, but I dream about him ALL the time.
3. What was your FIRST alcoholic drink?
My mother and father used to have card parties with the school faculty and my sisters and I would sneak down in the morning and finish off the mixed drinks left in the glasses from the night before. Who knows? We sure didn't care!
4. What was your FIRST job?
Salesgirl at the Lerners' Shop when I was 16. My first boss was Mrs. Lepley, a sweetie!
5. What was your FIRST car?
1965 Ford Mustang! Wish I had it now!
6. Where did you go on your FIRST ride on an airplane?
Home from the beach in North Carolina when I was 3 or 4. We were in an old prop airplane at night and ran into a bad thunder storm. I'll never forget lightning striking the plane!
7. Who was your FIRST best friend & do you still talk?
I never had a best friend till college. My parents were teachers,then principal and superintendent. Everyone was scared to associate. My best friend is and was Rose Siers, though I haven't seen her in 32 years. We talk every few years and it's always like we've been together forever!
8. Whose wedding did you attend the FIRST time?
My sister, Carol.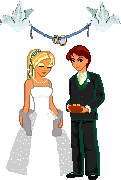 9. Tell us about your FIRST roommate.
Her name was Becky and she was a little trollop! We both worked in food service on campus and she was screwing one of the managers!
10. If you had one wish, what would it be (other than more wishes)?
That my husband was still alive!
11. What is something you would learn if you had the chance?
Sign language.
12. Did you marry the FIRST person you were in love with?
No, but I should have!
13. What were the first lessons you ever took and why?
Piano, cause my mother forced me to.
14. What is the first thing you do when you get home?
Take off my shoes! I hate shoes!
Well, THAT was short and sweet!